Чем будем удивлять?
The exclusive training seminar "You and Your Money," Yekaterinburg, January 5 - 6, 2021
Do you want to develop your financial literacy, become the master of your life and learn how to increase capital?
We invite you to attend the exclusive training seminar "You and Your Money", which will be held on January 5 - 6, 2021 in Yekaterinburg.
You will learn how to invest in your own future without risks, create passive income, save in the shortest time for housing, a car and travel to create with your own hands a decent life for yourself and your loved ones.
The seminar's lecturer is Daniil Utiansky:
- Student of the great Robert Kiyosaki;
- Accredited business coach;
- Lecturer at the Austrian-German School of Business Consulting;
- Speaker at more than 500 Russian and foreign business seminars and trainings;
- Businessman and investor with many years of experience.
Program of the event:
11:30 - 12:00 Registration of the participants
12:00 - 14:00 Training Part 1
14:00 - 15:00 Business lunch
15:00 - 17:00 Training Part 2
"You and your money" is not just a lecture about castles in the air but a manual for action, practical advice and rules of making a personal financial plan. It is investment tools, which you will be able to apply right away.
Your well-being depends on your own decisions (c) John Rockefeller.
The Venue of the "You and Your Money" training seminar is Onegin Hotel, Yekaterinburg, 49 Rosa Luxemburg Street.
Applications are accepted in the most convenient format for you:
+7 950 191 08 24
kmv_1986@mail.ru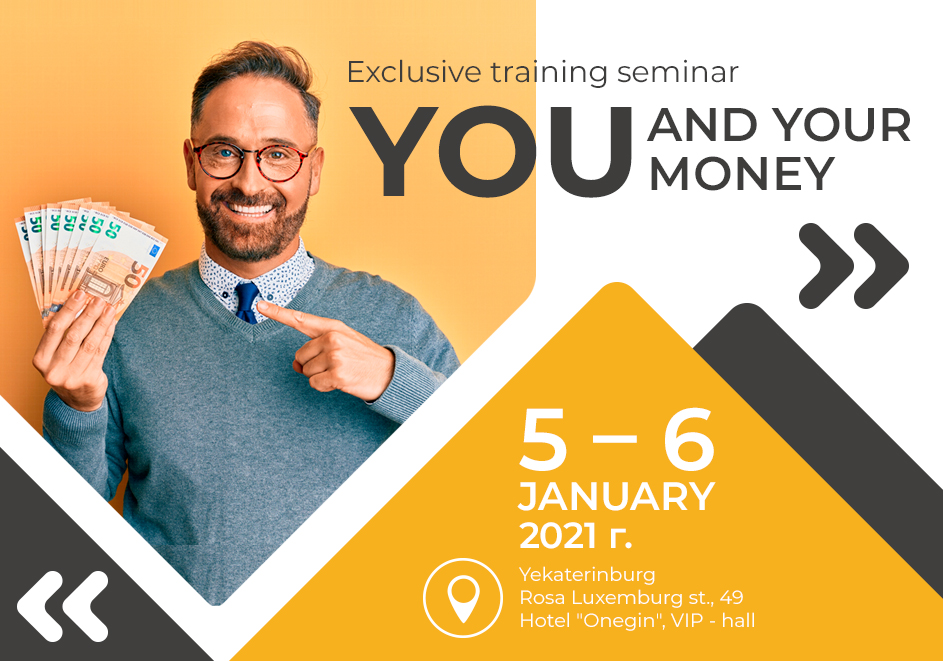 ---
Расскажите об этом мероприятии в социальных сетях
Russia, Sverdlovskaya obl., Ekaterinburg, 49 Rosa Luxemburg Street.