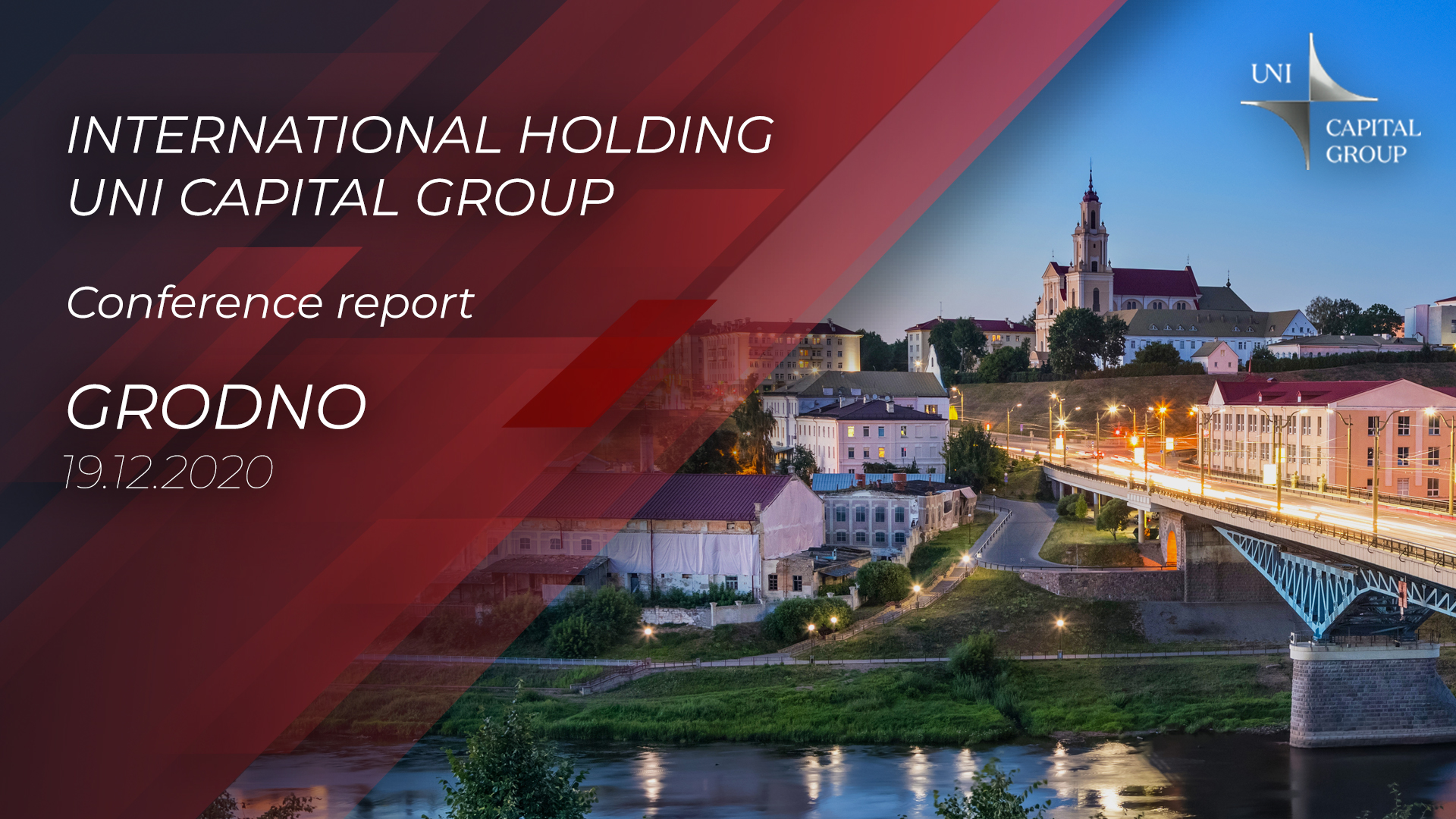 A New Year corporate event for the Belarus Department of UNI Capital Group holding was held on December 19, in Grodno, at the Semashko Apart Hotel. It was organized by the heads of this structural division.

The official part of the holiday started with a video congratulation from the heads of UCG core departments.

Wishes of peace, joy and prosperity for all guests were extended from:

Baboglo Artem - General Director of UCG;
Pottinga Evgeniy - Executive Director of UCG, shareholder and CEO of UNI TECHNOLOGY (Official Branch, Prague, Czech Republic), UNI Fin Invest;
Petrakin Vladimir - Head of Marketing and Business Development Department, UCG;
Aliya Katkenova - Head of Kazakhstan UCG direction;
Daniil Utyansky - Head of Russia UCG.

After the videoconference, guests of evening reached an opportunity to observe the activities of  the Holding and advantages of its products. Then organizators held a diploma ceremony for colleagues from the Belarusian Office. The Night ended with a fancy dinner in the hotel restaurant.

Maria Pogonina made for guests  a presentation of the Holding and its activities. Ruslan Idrisov spoke about SKY product, and Valentina Yurakhno about the possibilities of building a successful career and business within the Holding.

Diplomas "For Strong Branding of UNI Capital Group Holding" on the territory of the Republic of Belarus were presented to:


Idrisov Ruslan;
Prokopovich Alexander;
Yurakhno Valentina;
Podbereznaya Tatiana;
Pogonina Maria;
Savchuk Vladislav.

All guests could take part in the win-win lottery held by organizers. Among other gifts there was a "Free Participation Certificate for UCG International Conference", that will be held in Minsk. 

We are thankful to our colleagues, especially the Head of the Belarus direction Tatiana Perekko and the director of the department Yurakhno Valentina for organizing and holding this event at the highest level!